Wasabi Japanese Restaurant Breckenridge
Wasabi Japanese Restaurant
311 S. Main Street | PO Box 3778
Breckenridge, CO 80424
(970) 453 8311
Yummmmmm.
Wasabi Japense Restaurant in Breckenridge, Colorado, offers delicious Japanese cuisine and sushi, a relaxed atmosphere, and friendly service. We import the freshest fish from Japan (and all over the world), which allows us to offer a wonderful, large selection of sushi and sashimi, rolls, traditional Japanese cuisine, our famous chef's creations, daily specials, and a wide variety of vintage Sake imported directly from Japan.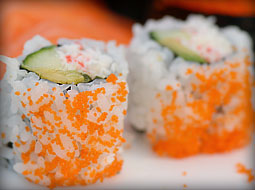 Delicious Japanese food for everyone…
Wanting to dine with us but your friends don't like sushi? No problem! We serve plenty of dishes that have nothing to do with raw fish. Taste our Japanese Fried Chicken (JFC), nibble on our avocado and tofu salad, try our delicious mountain vegetable rice bowl, or order our tasty teriyaki chicken dinner.
So come in, sit back, and relax in our restaurant with good company and delicious food. Sip some miso soup, indulge in our famous Red Dragon sushi roll, or just chat with Hiro-san about fly fishing. (Just remember -- if you DO start talking fly fishing, make sure you have enough time to do so.)
Consuming raw or undercooked seafood may increase your risk of foodborne illness.
Our Hours & Location
Dinner: 5:00pm - 9:00pm - For current hours/days, check Google
Phone: (970) 453-8311
Location: On the west end of Main Street Mall in Breckenridge, Colorado (311 S. Main Street) -- facing Skelly Pond and Peak 8.